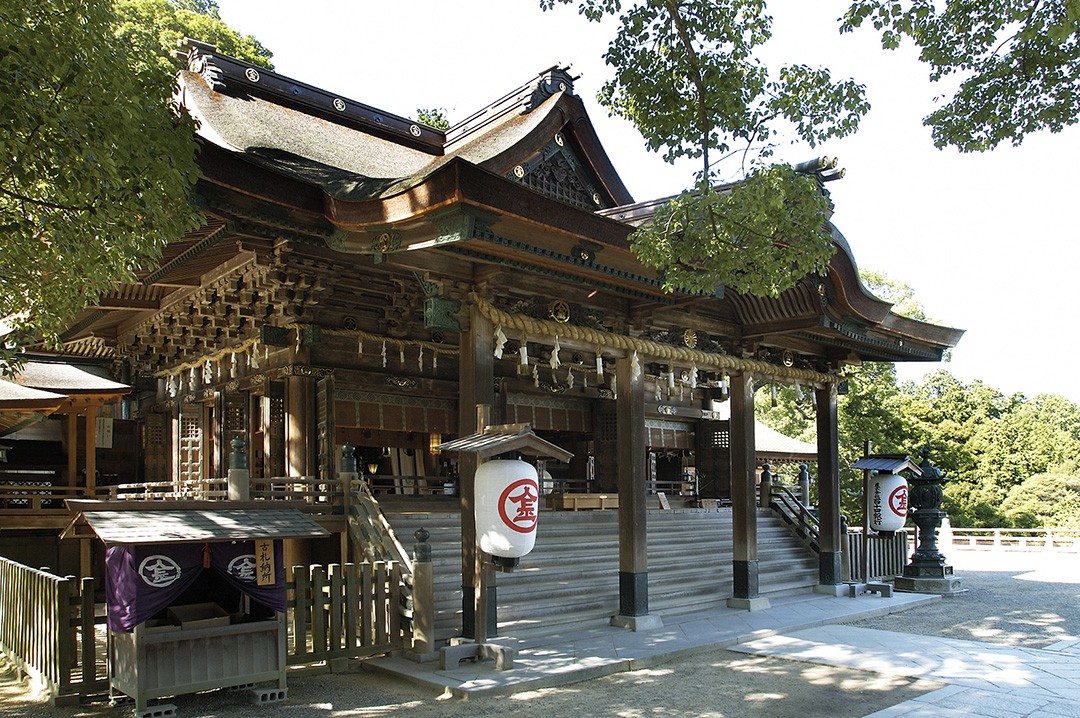 Kotohira-gu Shrine (Go-hon-gu main shrine)
Known as "Konpira-san," Kotohira-gu Shrine is situated halfway up Mt. Kotohira (Mt. Zozu).
The shrine is said to have been there for nearly 3000 years now, according to old books such as "Tamamo-shu" published in 1677 (Enpo 5) and "Sanshu-fushi" compiled by Kikuchi Takemasa in 1745 (Enkyo 2).
In the Middle Ages, under the influence of the Honji-suijaku theory – emphasizing that Shinto deities are the manifestations of Buddhist divines – the name was changed to Konpira-Dai-Gongen. In 1165 (Eiman 1), the deified spirit of Emperor Sutoku was enshrined here.
However, in July 1868, the first year of the Meiji Era, by a decree of ordering the separation of Shintoism and Buddhism, it was restored as a Shinto shrine named "Kotohira-gu" Shrine, which is still the shrine's present name.
The shrine enshrines the main deity, Omononushi-no-Kami, and Emperor Sutoku. Omononushi-no-Kami has three aspects: a younger brother of Amaterasu-Omikami, a son of Takehaya-Susano-no-Mikoto, and a deity of Okuninushi-no-Kami's Nigi-mitama, the gentle and peaceful nature of Shinto deities.
As a deity bringing a wide range of divine benefits, including agriculture, industry, fisheries, voyages, medicine, and arts, Okuninushi-no-Kami is sincerely worshipped by people throughout the country.
Facility Name
Kotohira-gu Shrine (Go-hon-gu main shrine)
Address
892-1 Kotohira-cho, Nakatado-gun, Kagawa
Phone Number
+81-877-75-2121 (the office of Kotohira-gu Shrine)
Website
Kotohira-gu Shrine's Official Website
Business day
Open all year round
Hours
9:00 am – 4:00 pm (for the visitors) It varies during year-end and New Year holidays.
Closed
Open all year round
Parking (Capacity)
No parking space
Time required from the nearest station
From JR Kotohira Station, 10 minutes on foot to the stone steps entrance of the shrine
From Kotoden Kotohira Station, 7 minutes on foot to the stone steps entrance of the shrine
Time Required:
From the stone steps entrance,
about 1.5 hours to Go-hon-gu main shrine (to the 785th step) for a round-trip
about 3 hours to Oku-sya inner shrine (to the 1368th step) for a round-trip